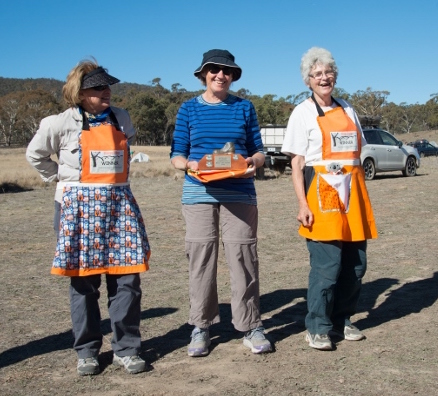 ACT Rogaining Association life member Kathy Saw passed away on Sunday 1 March. Kathy was a strong and enthusiastic rogainer and volunteer. She helped organise many events and would always be one of the first to put her hand up to help at events.
Kathy's prowess in the sport was demonstrated in womens classes for over 30 years, most of this time with Anne Sawkins, by winning or placing in her class (usually winning) at events including the Australian Champs in 1987, 1988, 1990, 1994, 1995, 1999, 2000, 2002, 2003, 2010 and in 2017 at the Ridgy Didge Champs, where this photo is from. Anne described Kathy's team approach to navigating, taking turns and feeling equally responsible for errors. In latter years Kathy was happy to adjust the teams pace and expectations to what they were capable of. As all rogainers will know, there are always treasured funny moments that you share out on the course. Anne remembers Kathy stretching on a tree and it falling over! Fortunately Kathy was not hurt.
One of the ACT Champs Kathy set that we now look enviously at the map is at the northen end of Long Plain in Kosciuszko National Park, incorporting an area that is now wilderness and out of bounds for events.
Kathy was also a excellent orienteer. The Orienteering ACT website has photos and stories of her orienteering.