---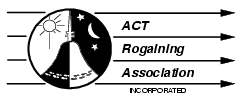 6 hour

Sunday 6th April 2008 9:30am-3:30pm

---
Course Description
The 2008 ACT Paddy Pallin rogaine will be held near Oallen Ford.

More photos
Oallen Ford is on the beautiful Shoalhaven river just before it enters a major gorge. The course will be mostly open forest country with some open pasture. Much of the area should be fairly fast, with the occasional area of slower going. The terrain is generally undulating hills without significant areas of relief, but with some erosion gully detail. Map scale will be 1:25000.
The area is about 100 minutes east of central Canberra and within easy reach of Sydney, Southern Highlands and Wollongong, lying around 45 minutes drive south of Bungonia.
Unfortunately, no camping is available at the event site. For people coming from Sydney the best option is probably the Bungonia campground, about 40 minutes north of Tarago on the back road which leaves the Hume Highway about 4km on the Goulburn side of Marulan.
Paddy Pallin events are ideal for those wanting to try rogaining for the first time, as well as providing competitive challenges for the more experienced.

---
Results
---
Photos, Stories Etc.
No photos are available

Stories and Reports

Email your photos to the ACTRA Publicity Officer. Please note that in emailing event photos to ACTRA, you are giving permission to ACTRA to publish the photos on the website or Facebook page. You will be acknowledged as the photographer.
---
The people who brought this event about
Coordinator
Setters/Vetters
Admin
General Help
Catering
Control Collection
Ian Booth
Jonathan Miller
Norm Johnston
Ian Booth
Wayne Gregson
Ian Booth
Salih Ozgul
Leone Jansen
Robert Brereton
Jonathan Miller
Norm Johnston
Local Progress Association
Ian Booth
Norm Johnston
Jonathan Miller