From Saturday 28 May 2022
To Monday 13 June 2022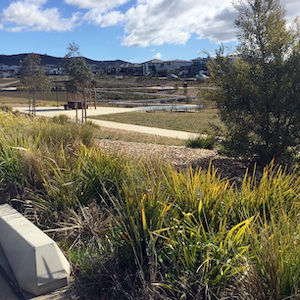 Go West is a virtual 4-hour rogaine in Western Creek, Canberra. It includes bush areas in the Molonglo River corridor, Mount Stromlo, Narrabundah Hill and Cooleman Ridge, as well as the suburbs from Denman Prospect to Fisher. The start location is at Duffy Oval, right in the centre of the map, which gives you lots of options for course planning, especially if you want to enter multiple times.
It's a virtual event, which means that you can take part at any time between Saturday 28 May and midnight on Monday 13 June. The course uses the MapRun app on your phone or watch to record your visits to control sites; there are no controls flags. (The course will still be available on MapRun after the closing date, but you won't be included in the official results.) You can compete individually or as a team.
The map, control descriptions and course setters notes will be available here from Friday 27 May. Teslin copies of the map, control descriptions and paper copies of the course setters notes can be picked up from the Paddy Pallin store in Lonsdale Street until supplies run out (there are 400 copies, so hopefully enough for everyone).
You will need the MapRun app installed on your phone. See the virtual events page for instructions and a link to download the app.
Location
Duffy Oval, Duffy