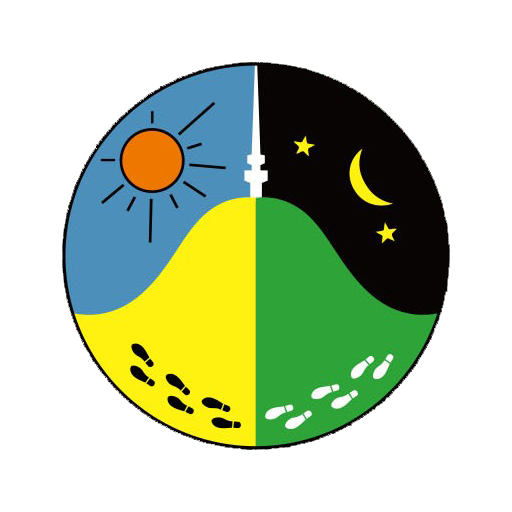 ACT ROGAINING ASSOCIATION BULLETIN‍
Spring 6/12 hr, Sat 5 November

Choose between 6 hours during the day or 12 hours extending into the dark for our Spring rogaines. The location is Bondo State Forest, west of Canberra on the other side of the Brindabellas. It is lovely unburnt, undulating high country forest with lots of fire trails and motorbike tracks to lead you in the right direction, or possibly astray, in your hunt for checkpoints. Both starts will be at 11 am so even the night event will only have a few hours of dark. Camping is on site and Hartley will be there to feed us at the end and on Sunday morning. If you are able to make a weekend of it and collect a few controls on Sunday, please let Jean Douglass know.

Setters, vetters and suggestions for 2023

The committee is putting together another year of rogaining in 2023 and we want to know who would like to help? In particular, we need setters, vetters and a location for the ACT Champs tentatively scheduled for 15-16 April 2023. But we welcome anyone who would like to help with an event to get in touch with Stephen or one of committee.

Midlands Muster


Tasmanian Rogaining Champs, 5/6 Nov 2023 

If you want to rogaine further afield in November, entries are now open for the Midlands Muster, Rogaining Tasmania's next bush rogaining event. There will be three event durations to choose from: the 24-hour State Championships, a roving 15-hour, and a 6-hour. The course is entirely on private land between Ross and Lake Leake. It will challenge champions with plenty of distance, interesting navigation and ample hilly bits. It will also offer novice entrants an opportunity to practice their navigation skills in beautiful farmland and natural environments. The terrain is varied, from open rolling paddocks and native grassy meadows, through to open forested hills and wet gullies. You'll encounter Tasmania's unique wildlife (those reflective eyes at night are often quolls), the odd herd of deer, and occasional historic bush hut. 
The Hash House is almost smack bang in the middle of Tasmania, approximately 2.5 hours by car from Hobart and 1.5 hours from Launceston (Midland Highway roadworks dependant). RT won't be providing a bus to and from the event, but if interstate entrants are struggling to find a hire car or transport across that pesky Bass Strait, RT can assist with carpooling. Camping is free and encouraged.
We look forward to welcoming many mainlander rogainers!

Pyrenees Ponder, 2022 Australasian Rogaining Champs - in review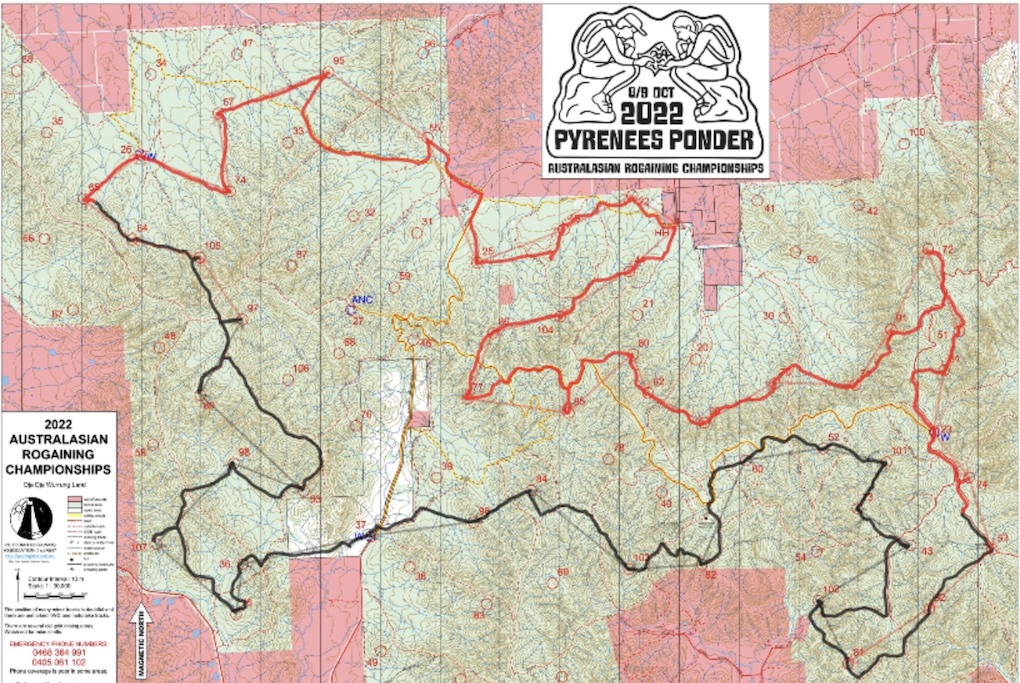 The Victorian Pyrenees‍ near Avoca are not quite as big as the Spanish/French Pyrenees but there are certainly a few steep hills. Vic Sedunary and Merve Trease set a course that tested everyone's navigation skills, as a Australasian champs should. There was no running along a fire trail and diving off to a checkpoint. Nearly all of the course was in open bush with minimal undergrowth meaning travel was mostly limited by peoples fitness and ability to go up and down hills. David Baldwin and Julie Quinn were overall Australasian Champions and mixed open and veterans winners, Jean and Peg Douglass were first in the womens ultravets and supervets, Grant Battersby and Tony Slatyer were first in the mens ultravets, and Jordan Riddle, Hayden Scott and Cooper Jackson were 3rd in Mens under 23. Full results on the VRA website and some photos on their Facebook page or ACTRA gallery.

David Baldwin has written a short story of his event.
In the Interstate Trophy, ACTRA had a small contingent of 15 people, but with winners in multiple categories we were able to come second, only pipped by Victoria.

The Intervarsity Champs took place at the same time. Toby Cazzolato, Max Grivell, and Jack Marschall from the University of Adelaide were winners. The ANU was not represented this year because of the timing of Inward Bound and this event.
President's Piece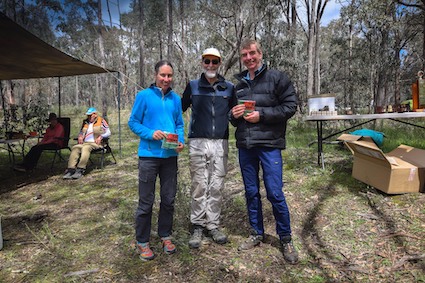 Water water everywhere - including now in the Avoca River catchment in Victoria, though fortunately the rain held off there on the weekend of the recent Australasian Rogaining Championships. Reviews of the event have already been posted online (by Lucy Hawthorne, and Thor Egerton) but renewed special congratulations to overall AusChamps, our own Julie Quinn and David Baldwin, and Womens Supervet Winners Jean and Peggy Douglass. It was pleasing to hear from the organisers of that event that there were no injury concerns to speak of, but equally good to know that qualified first aid assistance was on hand anyway. It's especially important, when this rain we're enjoying(?) is just enough to make everything slippery, that rogainers take precautions to stay safe - good shoes, warm base layers, a dry change of clothes (especially socks) and make sure organisers have your correct car rego and emergency contact details. We're all looking forward to one more good hit out at the Spring event at Bondo on 5 November - are you?‍