2014 ACT Metrogaine 6 hr

---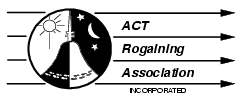 6 hour

09:30 - 15:30

---
Course Description
Come and explore the wonderful Woden Valley in the 2014 Metrogaine on Sunday 17 August, 09:30 - 3:30pm.
Unfortunately the weather is expected to be wet. The Scout Hall will be available to do your map preparation and to have some food post-event. Please come prepared with wet weather gear and something to ensure your map is waterproof.
---
Results
---
Photos, Stories Etc.
No photos are available

Email your photos to the ACTRA Publicity Officer. Please note that in emailing event photos to ACTRA, you are giving permission to ACTRA to publish the photos on the website or Facebook page. You will be acknowledged as the photographer.
---
The people who brought this event about
Coordinator
Setters/Vetters
Admin
General Help
Catering
Control Collection
Benita Sommerville
Benita Sommerville
Troy Skaleskog
Dan Heldon
Benita Sommerville
Dane Roberts
Colin Mock
Colleen Mock
Sean Sunley
Troy Skaleskog (first aid)
Garran Scouts
Colin Mock
Colleen Mock
Troy Skaleskog
ACT SES