Metrogaine

---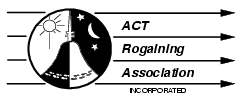 6 hour

26th August 2012
9:30 am to 3:30 pm, 6 hrs

---
Course Description
2012 TUGGERGAINE!
This year we returned to the south of Canberra for the 2012 Metrogaine.
After thawing out from our fabulous 4 hour winter event, teams enjoyed the spectacular views of the Brindabella and surrounding ranges from the numerous vantage points offered by our course setter Glenn Bridgart.
Glenn included some wonderful undulating bushland areas with a mix of lower lying easily traversed pathways and tracks leading to a range of interesting control sites.
This event was ideally suited to both the casual 'out for a stroll' first timer, but, at the same time gave our dedicated 'dencorub junkies' a chance to prove their worth!
Some areas of the course were new to both the orienteering and rogaining fraternity and were enjoyed by all.
---
Results
---
Photos, Stories Etc.
No photos are available

Stories and Reports

Email your photos to the ACTRA Publicity Officer. Please note that in emailing event photos to ACTRA, you are giving permission to ACTRA to publish the photos on the website or Facebook page. You will be acknowledged as the photographer.
---
The people who brought this event about
Coordinator
Setters/Vetters
Admin
General Help
Catering
Control Collection
Doug Collier
Glenn Bridgart
Benita Sommerville
Grant Battersby
Sarah Cowdery
Tracey Edmonds
Angela Gilbert
Hartley Lifecare
Scott Ogilvy
Graham Atkins
Ari Pirroinen
Dane Roberts
Tracey Edmonds