ACT Rogaine Championships

---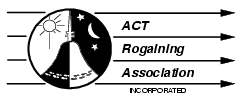 8 hour /
24 hour

starting Saturday 17 May 2008 at 12 noon

---
Course Description
This year's ACT Championships is located less than an hour's drive east of Canberra in the Tallaganda National Park. Come and 'take a gander at Tallaganda'.
The area is mostly native forest, with a diversity of terrain from lovely open ferny gullies to more challenging granite boulder country. The course is crossed by an old convict built road, several fire trails, wallaby tracks and lots of lyre bird mounds. Relief ranges from 800m to 1,200m with 1,264m Mt Palerang dominating the landscape.
The course will not be fast, but nor is it super difficult. The setters have avoided the worse that Tallaganda can offer for those familiar with the area.
The area for parking is limited so please consider car sharing with other teams - as well as saving greenhouse gases and petrol costs. If you need a lift to the event, you can use the 'carpool finding' site. Camping at the Hash House will be available at no cost.
Access to the HH site might be a challenge for very low slung two wheel drive cars, in which case alternate camping is available approx 800m from HH.

---
Results
---
Photos, Stories Etc.
No photos are available

Stories and Reports

Email your photos to the ACTRA Publicity Officer. Please note that in emailing event photos to ACTRA, you are giving permission to ACTRA to publish the photos on the website or Facebook page. You will be acknowledged as the photographer.
---
The people who brought this event about
Coordinator
Setters/Vetters
Admin
General Help
Catering
Control Collection
Keith Conley
Ron Simpson
Jean Douglass
Keith Conley
Jean Douglass
Keith Conley
Ron Simpson
Geoff Mercer
Adam Leane
David Foster
Paul Fischer
Aranda Venture Scouts
Kathy Saw
Susie Sprague
David Clark
Adam Leane
Kate Luxford
Adam Woodman