The All Clear-againe 6/12hr

---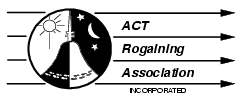 6 hour /
12 hour

Saturday 8th November 11am - 5pm / 11pm

---
Course Description
The course is in the extreme southern corner of the ACT in the Mt Clear/Brayshaw's hut area, at an altitude of 1100-1400m. The course is a beautiful mixture of grassy valleys, open eucalypt forest with some steeper rocky terrain. Very little of the course is runnable, although there is a reasonable track network in the valleys.
The course is suitable for rogainers of all abilities and also provides challenging navigation and a true wilderness experience.
See more pre-event photos.

---
Results
---
Photos, Stories Etc.
No photos are available

Email your photos to the ACTRA Publicity Officer. Please note that in emailing event photos to ACTRA, you are giving permission to ACTRA to publish the photos on the website or Facebook page. You will be acknowledged as the photographer.
---
The people who brought this event about
Coordinator
Setters/Vetters
Admin
General Help
Catering
Control Collection
Glenn Bridgart
Jean Douglass
Ron Simpson
Adrian Sheppard
Julie Quinn
Lyndall Adam
Julie Quinn
Glenn Bridgart
Ron Simpson
Claire Edwards
Jean Douglass
Matthew Hollingsworth
Hartley Lifecare
Marg and Mike Harrap
Lorraine Tomlins
David Clark
Matthew Hollingsworth
Felix Schill