---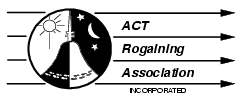 6 hour

Sunday 5th March 2006
9.30am - 3.30pm

---
Course Description
The 2006 ACT Paddy Pallin Rogaine will be held near Bungendore, within 45 mins from Canberra and 3 hours from Sydney. The course is a lovely mix of open grazing country and native forest, almost all of which is quite clear at ground level and should prove to be easy going. The area is very suitable for beginners, but also provides fine detail to challenge more experienced rogainers. Once again, Paddy Pallin will be supporting the event by providing a great range of lucky dip prizes. The course map will be a specially prepared 1:15000 scale orienteering map.
Note:
In the event of a total fire ban on the event day, the event will be postponed to the following weekend, or cancelled. In the case of cancellation, entry fees will be refunded.
---
Results
---
Photos, Stories Etc.
No photos are available

Email your photos to the ACTRA Publicity Officer. Please note that in emailing event photos to ACTRA, you are giving permission to ACTRA to publish the photos on the website or Facebook page. You will be acknowledged as the photographer.
---
The people who brought this event about
Coordinator
Setters/Vetters
Admin
General Help
Catering
Control Collection
Stuart Anderson
Glenn Bridgart
Adrian Sheppard
Rebecca Speedie

Stuart Anderson
Stuart Anderson
Adrian
Glenn
Rebecca
Emma Murray
Christine Butzer
DEWR Hartley Crew
Graham Turner
Mark Leonard
David Clark