ACT Rogaining Championships

---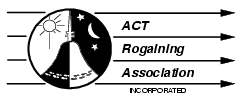 8 hour /
24 hour

25th-26th June 2005
12 noon - 8pm (8hr)
12 noon - 12 noon (24hr)

---
Course Description
This years ACT Champs is approximately 30 km northeast of Goulburn in the Tarlo River National Park and surrounding farmland (about 1.5-2 hours drive from either Canberra or Sydney). The area comprises open forest along the Cookbundoon Range and Tarlo River. It is classic spur-gully terrain and ranges in elevation from 600m to 950m, although most of the course is between 600m and 700m. The whole course is virtually free of scrub and undergrowth, and is very fast and enjoyable to move through. The National Park has not seen a bushfire for many years and it is a refreshing change from the burnt areas closer to Canberra.
The weekend of the event is very close to the Winter solstice (June 22), therefore expect a long, cold (but very enjoyable) night. There will be around 14 hours of darkness (sunset is 4.58pm and sunrise 7.09am).
In addition to camping on the Saturday night, camping is also available at the Hash House on the Friday night, for those who want to travel to the event on Friday rather than Saturday morning.
If you lost anything at the event, please contact stuart anderson via email at stuart.anderson@facs.gov.au.
---
Results
---
Photos, Stories Etc.
No photos are available

map of the winners' route (BIG file - 827 kB)
Stories and Reports

Email your photos to the ACTRA Publicity Officer. Please note that in emailing event photos to ACTRA, you are giving permission to ACTRA to publish the photos on the website or Facebook page. You will be acknowledged as the photographer.
---
The people who brought this event about
Coordinator
Setters/Vetters
Admin
General Help
Catering
Control Collection
Benita Sommerville
Emma Murray
Dan Clark
Sue Brown
John Brown
Stuart Anderson
Stuart Anderson
Dave Osmond
Stuart Anderson
John McGrath
Rodney McWhirter (landholder)
Bart Shneemann
Adrian Sheppard
DEWR Hartley Challenge Team
Gloria Moyano
Leanne Aust
Sebastian Dunne
Adrian Sheppard
Trevor Jacobs
Paul Veldkamp
Dave Osmond
Vince Craig