2004 ACTRA Spring Rogaine

---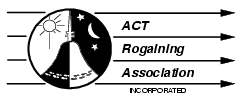 6 hour /
12 hour

Saturday 27th November 2004 noon - midnight

---
Course Description
The event will be held within 1 hour's easy drive south from the Canberra CBD. The area is a mix of flattish grasslands with numerous wet and dry watercourses and rocky knolls, and some steep to very steep wooded hillsides with large granite outcrops. The area should be suitable for beginners as well as the more experienced rogainers. Altitude varies from about 950m to 1400m. Undergrowth varies from none (as a consequence of the 2003 bushfires) to long grass, with the occasional thick patch.
In the event of a total fire ban, or excessive winds on the event day, the event will be postponed to the following weekend, or cancelled. In the case of cancellation, entry fees will be refunded.

---
Results
---
Photos, Stories Etc.
No photos are available

Email your photos to the ACTRA Publicity Officer. Please note that in emailing event photos to ACTRA, you are giving permission to ACTRA to publish the photos on the website or Facebook page. You will be acknowledged as the photographer.
---
The people who brought this event about
Coordinator
Setters/Vetters
Admin
General Help
Catering
Control Collection
Not Known
Norm Johnston
Richard Stanaway
Stuart Anderson
Hannu Mannering
Stuart Anderson
Paul McNally
Lydia Knuefing
1st Aranda Scouts
Lydia Knuefing
Annabel Battersby & ANUMC
Cheng Soon Ong
Trevor Jacobs
Felix Schill
David Osmond