ACT 6/12 spring rogaine

---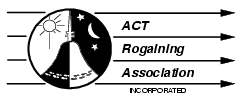 6 hour /
12 hour

Saturday 15th October 2011 noon-midnight

---
Course Description
The 2011 ACT 6/12hr Rogaine on Saturday 15 October 2011 will be held in and around the Jerangle area. The area has some beautiful farmland (you might even see some new lambs around the place). The course includes areas of undulating grazing country punctuated by a myriad of granite boulders, knolls and hills - offering some outstanding views. Significant areas of native bush surrounding the upper reaches of the Queanbeyan River and Tinderry Range complement the farmland. One of the features of this course is the absence of long or steep climbs. However, you will need to pay careful attention to map as you navigate your way through areas of subtle contours. The event's 1:25,000 A3 map has been specially enhanced to improve the readability of contour information. Mike and Marg Harrap, the course setters, will be setting a course that will test even some of the more experienced navigators.
The Hash House will be located approximately 2 hrs from Canberra and 5 hrs from Sydney. (It can still get quite cool in this area even around this time of year so remember to bring clothing suitable for the conditions.)
---
Results
---
Photos, Stories Etc.
No photos are available

Email your photos to the ACTRA Publicity Officer. Please note that in emailing event photos to ACTRA, you are giving permission to ACTRA to publish the photos on the website or Facebook page. You will be acknowledged as the photographer.
---
The people who brought this event about
Coordinator
Setters/Vetters
Admin
General Help
Catering
Control Collection
Aaron Coles
Mike Harrap
Marg Harrap
Aaron Coles
Andrew Rowe
Danielle Winslow
Julie Quinn (First aid)

Mike Harrap
Marg Harrap
Aaron Coles
Glenn Brigart (First aid)
Jerangle P&C
NEEDED