ACT Champs 2002

---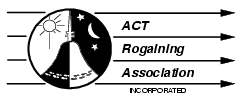 8 hour /
24 hour


---
Course Description
The area is open, dry native forest with very little scrub and 'classic spur-gully' terrain. There are a few hilly sections and the altitude ranges from about 800m to 1,200m. Map is pre-marked at 1:25,000 scale. Catering during and after the event is included in the entry fee. Being in November it could be warm during the day and mild at night. Camping will be available at the Hash House site on Friday and Saturday nights with other accommodation (caravan parks, motels) about 20kms from the Hash House.
---
Results
---
Photos, Stories Etc.
No photos are available

Email your photos to the ACTRA Publicity Officer. Please note that in emailing event photos to ACTRA, you are giving permission to ACTRA to publish the photos on the website or Facebook page. You will be acknowledged as the photographer.
---
The people who brought this event about
Coordinator
Setters/Vetters
Admin
General Help
Catering
Control Collection
Not Known
Ron Simpson
Jean Douglas
Ron Simpson
Jean Douglas
Not Known
1st Aranda Scouts
Not Known