Winter 4 hr

---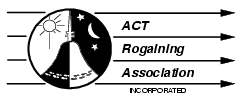 4 hour

10 am start

---
Course Description
The 2018 Winter Rogaine returns to Kowen Forest, but don't be fooled. We have a fresh focus on the Kowen Escarpment, with almost half the controls located in delightfully open native forest adjacent the pine plantation. The rolling terrain and creek system of the escarpment is balanced by flatter ground and numerous tracks within the plantation, providing something for all tastes and abilities. Some interesting watercourse features and views round out the course. To top it off, our map features exquisite 5-metre contours from a recent aerial survey.
---
Partner Finding Service
If you'd like to do this event, but can't convince anyone to go with you, then
click here
to register your details below. Once you have found a partner, please
click here
to remove your name from the list.
The following people are seeking a partner, or a team to join up with for this event. Contact them by email or by phone. (Competitiveness is on a range 1-10, where 10='would like to win category' and 1='happy to come last')
Louise Brooks , 50, Female, competitiveness is 3/10. ph: 0402992019 email - "have done 2 rogaines, orienteer and just joined a club, like trail running too "
---
Carpool Finding Service
Do you need a lift to the event? Have you got spare seats and would like to reduce your environmental impact, or just offer someone a lift? Then please make use of our carpool finder service for this event.To use this service,
click here
to register your details. Once you have organised your transport, please
click here
to remove your name from the list.
Nobody has registered yet.
---
Entry Info
Enquiries: Keira Doherty
phone: 0434296779
email: keiradoherty21 [at] gmail.com


Entries are open until Sunday 8th Jul, after that you pay an extra $10 per person.
---
The people who are bringing this event to you
If there are any 'needed' spots in this table, please consider contacting the coordinator to offer your help
Coordinator
Setters/Vetters
Admin
General Help
Catering
Control Collection
Keira Doherty
Matthew Hollingworth
Minh-Tam Nguyen
Caroline Christenson
Keira Doherty
Brad Vallette
Tom Banks
Keira Doherty
Dave Mobsby (First Aid)
Glenn Bridgart
Hartley Lifecare
NEEDED