2018 Australasian Rogaining Champs

---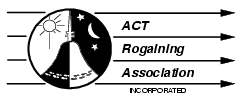 24 hour

25-26 August 2018
12pm Saturday - 12pm Sunday

---
Course Description
The 2018 Australasian Championships will be held on 25-26 August 2018 in prime rogaining country about 2.5 hour drive NW of Brisbane. The event will be held in the vicinity of the Manumbar locality, in the Gympie region.
We've decided to name the event the 'Sun SEQer Rogaine' - to encourage those of you from more southerly latitudes to escape the misery of your rainy winters and come on north to join us in the sunshine!
The event is being hosted by the Queensland Rogaine Association. The organising team has considerable experience in setting high quality rogaines, and we're looking forward to setting a challenging course in a beautiful part of South East Queensland.
See event website http://arc2018.qld.rogaining.org.au/

---
Results
Check
ARA website
---
Photos, Stories Etc.
No photos are available

Email your photos to the ACTRA Publicity Officer. Please note that in emailing event photos to ACTRA, you are giving permission to ACTRA to publish the photos on the website or Facebook page. You will be acknowledged as the photographer.