Metrogaine

---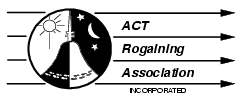 6 hour

9:30 am start

---
Course Description

The 2018 Metrogaine was between Belconnen and North Canberra. The hash house was located within the University of Canberra, allowing access to the nearby Gossan Hill and Lake Ginninderra. For those after more of a challenge, the course extended towards Black Mountain, The Pinnacle and surrounds. As always, the Metrogaine could be entered as a solo competitor or in a team.
---
Results
---
Photos, Stories Etc.
No photos are available

Email your photos to the ACTRA Publicity Officer. Please note that in emailing event photos to ACTRA, you are giving permission to ACTRA to publish the photos on the website or Facebook page. You will be acknowledged as the photographer.
---
The people who brought this event about
Coordinator
Setters/Vetters
Admin
General Help
Catering
Control Collection
Lee Rice
Fergus Macleod
Alice Patterson-Robert
Mali Walker
Brad Vallette (map)
Fergus Macleod
Mali Walker
Janet Scott (FA)
Anthony Leach
Hartley Lifecare
Lee Rice
Lisa Cutfield
NEEDED