---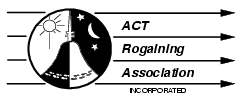 6 hour

Sunday 2nd May 2010 9:30am - 3:30pm

---
Course Description
For the first time, ACTRA will be hosting a rogaine at the Tidbinbilla Nature Reserve. Located 36 km south west of Canberra, the reserve is coming alive after the bushfires. You'll have the opportunity to see wombats, emus and diverse bird life as you wander around. The terrain is hilly in places with some flatter areas also. There are a range of tracks available and the vegetation is variable, with open and thick vegetation. The map will be a scale of 1:25000.
Please note, park entry to Tidbinbilla will be a seperate charge on the day - $10 per car for a day pass or $20 for an annual pass.

---
Results
---
Photos, Stories Etc.
No photos are available

Email your photos to the ACTRA Publicity Officer. Please note that in emailing event photos to ACTRA, you are giving permission to ACTRA to publish the photos on the website or Facebook page. You will be acknowledged as the photographer.
---
The people who brought this event about
Coordinator
Setters/Vetters
Admin
General Help
Catering
Control Collection
Claire Edwards
David Moore
Glenn Bridgart
Kathy Saw
Claire Edwards
Glenn Bridgart
David Moore
Petrina Alcock
Benji Apfel
Deb & Phil Saunders
Michael Challen
Ben Williamson
Sally Kingsland
Hartley Lifecare
Gemma & Ryan Ruddick
NEEDED