ACT Cycle rogaine

---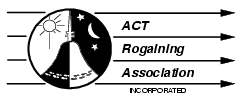 Bike 6 hour /
Foot 6 hour

Sunday 25th July, 9:30am-3:30pm

---
Course Description
Billapaloola Forest, east of Tumut. Approximately 95 km from Canberra via Picadilly Circus. Bush camping will be available on the Saturday night.

The bush will be radiata pine forest with sections of eucalypt with the altitude approximately 800 m to 1000 m. The area contains a good network of forest tracks, although you will have to get off your bike to collect the controls.

Please think about how you will carry your map on your bike. A map board is ideal. At least have a map case with a strap for around your shoulder.
Yass Valley Hire Supports the ACTRA Cyclegaine
Yass Valley Hire will be suppling the portable toilet facilities for the ACTRA Cyclegaine. In support of the event, Yass Valley Hire have provided ACTRA with a discounted rate. If you are looking for portable toilet hire for any event in the region, contact Peter from Yass Valley Hire on 6226 1199.

---
Results
---
Photos, Stories Etc.
No photos are available

Email your photos to the ACTRA Publicity Officer. Please note that in emailing event photos to ACTRA, you are giving permission to ACTRA to publish the photos on the website or Facebook page. You will be acknowledged as the photographer.
---
The people who brought this event about
Coordinator
Setters/Vetters
Admin
General Help
Catering
Control Collection
Greg Terrill
Danielle Winslow
Steven Hanley
Julie Quinn
Sue Janas / Sean Mcelhinney / Roger Edwards
Karolina Russell / Roger Edwards / Glenn Bridgart
Hartley Life Care
Michael Reed, Emily Stewart-Reed, Jean Douglass, Ron Simpson