Orrsome Boulders Spring 6/12 hour Rogaine

---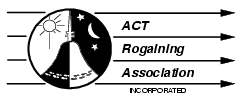 6 hour /
12 hour

Saturday 31st October 2009 11.00am-5.00pm or 11.00pm

---
Course Description
Come and enjoy the magnificent granite boulders of the Orroral Valley and a bit of moon landing history. The spring rogaine is within an hours drive south of Canberra along the Naas Road. The area is a mix of open easy grassy valleys and Eucalypt forest that is looking very healthy after the big singe 6 years ago. There are a number of walking tracks and fire trails in the area for speedy or easy travel. The elevation varies from 900m to 1350m with the higher spots put in to challenge the ultra fit. The map will be an A3 pre-marked 1:25,000 scale.

---
Results
---
Photos, Stories Etc.
No photos are available

Email your photos to the ACTRA Publicity Officer. Please note that in emailing event photos to ACTRA, you are giving permission to ACTRA to publish the photos on the website or Facebook page. You will be acknowledged as the photographer.
---
The people who brought this event about
Coordinator
Setters/Vetters
Admin
General Help
Catering
Control Collection
Jean Douglass
Jean Douglass,
Ron Simpson
Ron Simpson
Pia Asa, Dione Smith, Glenn Bridgart
Hartley Lifecare
Sutton family, Doug Collier, Mark and Amy von Huben, Colleen and Colin Mock, Michael Challen, Doug Collier