2017 O-week and Twilight rogaines

---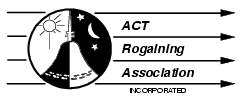 2 hour /
3 hour

Friday 17 February 2:30-4:30PM and 6:30-9:30PM

---
Course Description
Due to the total fire ban in place we cannot enter Black Mountain Nature Park and the event has been CANCELLED.
We regret any inconvenience. In due course, we will provide further information to those who have entered about their registrations, including the option of refunds.
---
Results
Results not available yet
---
Photos, Stories Etc.
No photos are available

Email your photos to the ACTRA Publicity Officer. Please note that in emailing event photos to ACTRA, you are giving permission to ACTRA to publish the photos on the website or Facebook page. You will be acknowledged as the photographer.
---
The people who brought this event about
Coordinator
Setters/Vetters
Admin
General Help
Catering
Control Collection
David Baldwin
Glenn Bridgart
Brad Vallette
Tom Brazier
Owen Cameron
Glenn Bridgart
Susie Sprague (First Aid)
Judy Jenkinson
Steve Hanley
An Ren Chen
Jean Douglass
Wendy Emerton
ACTRA
Susie Sprague
Lisa Cutfield
ANUMC